Just to let everyone know that i have dyslexia, so putting anything in writing is hard for me but i will my best to explain my story .
Below my drawing of the ufo that i seen in between 1980/1983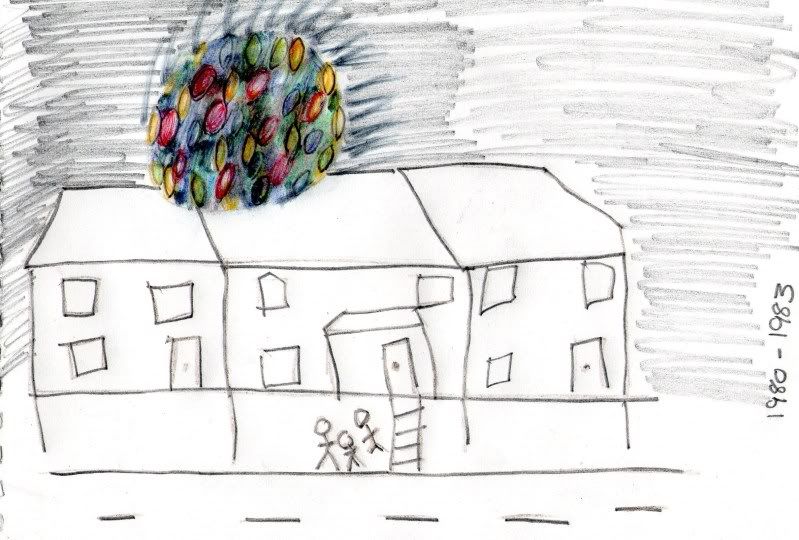 The Ufo Event happened between between 1980/1983
Winter time, dark clear night with the stars shining bright not a cloud in the sky.
Can't remember what time it was but it couldn't have been very late, I was never aloud out late. I would say it wasn't no later than six thirty pm.
I think I was around the age's of eight or ten, my sister and friend was a little older then me.
My sister don't remember much of her childhood, my friend moved away,. I can only remember her first name. I can't remember talking about this event to my sister or friend after it happened. It's like it never happened at all but in my mind this event has never gone away.
I can remember a good few year's back I asked my mother about that night we all ran into the kitchen frightened because of what we had seen but she told me that it never happened and that I must have been dreamed up the hole event. I didn't know what to say when my mother said that it must have been a dream, I just sat there in shock"a dream"?. I have not talked to her about it since.
Many time's I have thought about asking my sister if she remembers anything but after what my mother said I'm to scared that i will look and feel like fool again.
Has for my old friend still have no idea where she moved to if I could remember her surname I would try and find her to see if she remembers anything.
The Event
We were outside my home playing when we looked up at the night sky, we seen a huge object moving very slowly over the roof of my home, at that instance we all ran into my mother's house with total fear and panic, we told my mother about what we had seen but all mother told us was to stop been silly and sent my friend home.
My mother didn't even go outside to have a look, has for my friend she went home on her own, she did only live next door.
I know not much seem to have happened during this event but it has played a big part in my life and i feel theres bits missing.
I have many question's about his event,
Why
Why were we so full of Fear and panic?
Why didn't my mother go to have a look?
Did something else happen at this event that I may have blocked from my mind?.
Why can only I remember this event has far has I know that is.
Why can't I remember my friend's surname, but got the feeling I do know it?.
Is this why I have an obsession with Ufology?
Other weird childhood memory's
Total fear of Clown's, my sister use to have lot's of clown's in are bedroom, I hated them, very night I had to turn them around to stop them starring at me. Hated them so much.
Had to sleep with the bedroom light on when my sister wasn't home.(many children do this I know).
Outer body experience's at night, didn't understand this when I was young, I just remember floating down the stair's and over mountain's.
Seeing red eye's in the bedroom.
Missing Time, can't remember much once again but I know it happened.
I can remember a little of one missing time event, I was fifteen and late going home so I decided to take a sort cut home through the Lasgarn Wood, I can remember entering the wood it was pitch black and exiting the wood into a field, once in the field I was looking around thinking that someone was watching me, then I started to feel frighted and thinking that I could not remember walk through the wood, I then started running across the field until I reached the main road's,but that's all I can remember.
Questioning Myself
To get from A to B through the Lasgarn Wood there's a large quarry, how did I manage to get to the top of the quarry in the total darkness without falling down it?